Cues - Pool Cues - Billiard Cues - Break Cues - Jump Cues - Discount Prices - Call Us at 888-809-7665 - Free Shipping Over $200

Cuetec 100% Cotton Hat w/ Velcro Adjustment.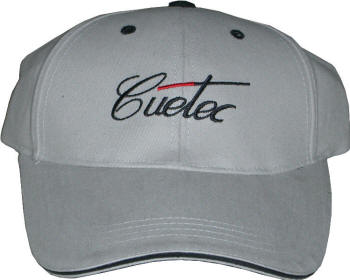 Very nice quality Cuetec hat

This newly developed 21st century high-tech maple shaft with graphite core truss rod will improve your game with these outstanding features:
Power-Bonded Fiberglass over a High-Tech Maple shaft with a Graphite Core Truss Rod
Graphite core prevents shaft from warping & increases power.
Graphite core controls deflection, squirt & distortion
Graphite core drives harder & sharper for better draws & spin.
20" Pro Taper provides a super long range of stroke.
20" Pro Taper prevents the shaft from climbing up your bridge.
20" Pro Taper enables you to reach for longer shots more accurately.
Exclusive True-Glide Finish
Shipping is not included. We offer UPS shipments to US, Canada and International.
World's Best Selection of Pool Cues and Game Room Supplies and Pool Table Lights