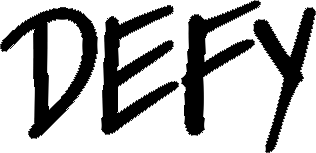 McDermott Defy Carbon Fiber Cue Shafts
FIRST GENERATION SHAFTS - CLOSEOUT SALE
| | | | |
| --- | --- | --- | --- |
| Product | Retail Price | Our Price | More Info |



McDermott Defy Shaft
5/16x18 Joint: 12.5mm - .855" Joint Diameter - 29 Inch
29" Length $455.00
29" Length - $300.00






McDermott Defy Shaft
5/16x18 Joint: 12.5mm - .855" Joint Diameter - 30 Inch
30" Length $490.00
30" Length - $331.50






McDermott Defy Shaft
Radial Pin Joint: 12mm - .843" Joint Diameter - 29 Inch
29" Length $455.00
29" Length - $300.00






McDermott Defy Shaft
5/16x14 Joint: 12mm - .843" Joint Diameter - 29 Inch
29" Length $455.00
29" Length - $300.00






McDermott Defy Shaft
McDermott Quick Release Joint: 12mm
.843" Joint Diameter - 29 Inch
29" Length $465.00
29" Length - $310.00






McDermott Defy Shaft
Uniloc Joint: 12mm - .843" Joint Diameter - 29 Inch
29" Length $485.00
29" Length - $330.00






McDermott Defy Shaft
Uniloc Joint: 12.5mm - .843" Joint Diameter - 29 Inch
29" Length $485.00
29" Length - $330.00






McDermott Defy Shaft
Uniloc Joint: 13mm - .843" Joint Diameter - 29 Inch
29" Length $485.00
29" Length - $330.00






McDermott Defy Shaft
Uniloc Joint: 12mm
.843" Joint Diameter - 30 Inch
30" Length $510.00
29" Length - $361.50






McDermott Defy Shaft
Uniloc Joint: 13mm
.843" Joint Diameter - 30 Inch
30" Length $510.00
29" Length - $361.50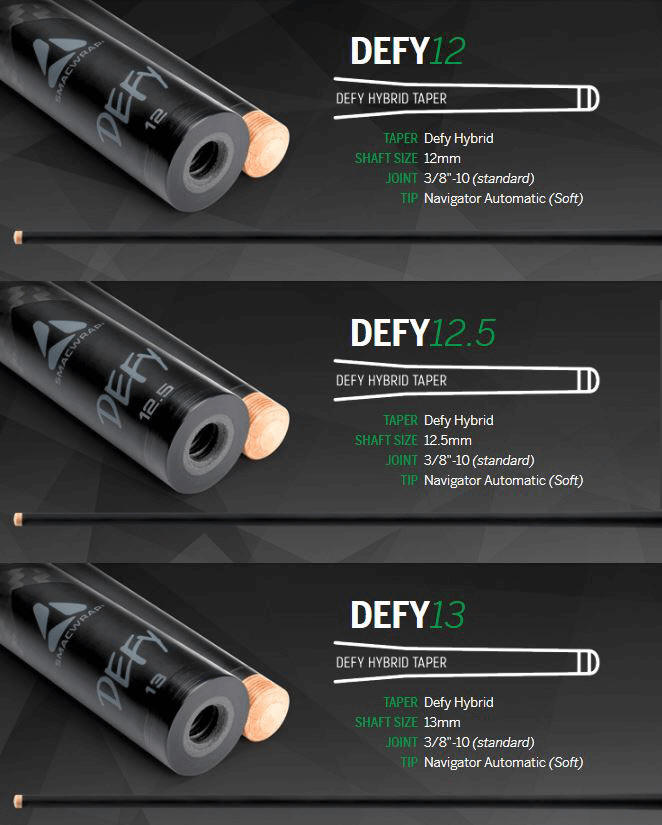 DEFY HIGH-PERFORMANCE CARBON FIBER SHAFT

Introducing Defy — a shaft that defies the stereotype of carbon fiber shafts. Defy gives you the unparalleled accuracy and control that you expect from carbon fiber, but uses state-of-the-art technologies to shatter its limitations. SmacWrap, originally designed for the aerospace industry, absorbs vibration and dampens noise resulting in a confident hit with a soft feel and quiet sound. Our super-smooth coating reduces friction, allowing the shaft to glide through your fingers with ease like a wood shaft. Only Defy's insane energy transfer and accuracy will remind you that you're using a carbon fiber shaft. Patent pending.

NAVIGATOR AUTOMATIC TIP SOFT
Navigator Automatic tips feature pure Japanese pigskin leather with no artificial coloring added. Each tip goes through a month-long manufacturing process that seals in the ideal qualities of the leather, providing a softer, more consistent hit with almost no deformation.



Specs:
Taper: Defy Hybrid
Shaft Size: 12mm, 12.5mm or 13mm
Tip: Navigator Automatic (Soft)





Defy Tradition
Defy Deflection
Defy Vibration
Defy from McDermott

CLEANING INSTRUCTIONS
Defy carbon fiber shafts have a special finish that contains a slip agent. This helps keep the shaft slick and resists chalk, dirt, and hand oils from soiling the shaft. For peak performance, you may periodically clean the shaft by wiping it down using only water on a lightly damp soft cloth. After the shaft is dry, apply Ultra-Glide Shaft Conditioner with a dry soft cloth to restore the smooth and slick condition.

As you continue to use the shaft; stroke friction will naturally burnish the shaft, resulting in a visibly smoother appearance. Never sand the surface as this will damage the special finish and void the lifetime warranty. Do not use talcum powder, baby powder, hand chalk, or any solid or liquid abrasives.

Defy Shaft Tip Replacement: Defy carbon fiber shafts are equipped with a 0.125" black ferrule. Because the shaft cannot be sanded, special care should be taken when replacing the tip. We recommend sending the shaft to McDermott Cue for proper tip replacement or use a service professional that has experience replacing tips on carbon fiber shafts.
Click Here for McDermott Cue Index