Talisman Layered Tips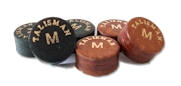 ccccNo Mushrooming.

ccccRequire little maintenance.

ccccSuperior ball control.

ccccPrecise english + masse.

ccccIncreased personal confidence.

ccccGreater consistency.

ccccHolds the chalk much longer.

ccccFar outlasts single layer tips.

ccccLatest technology - Highest Quality Standards.

cccc100% Satisfaction guarantee - or your money back.
The difference between these two ranges is the raw material used. The Talisman PRO is made from selected high quality pigskin and the Talisman WB from local bred, high grade buffalo hides, again only the very best material is selected from each hide. The other difference is in the feel of the tips, which is very, very difficult to explain in words. Overall the WB tips are a little firmer and they also last a little longer than the PRO tips. Both play really well, offer effortless English and masse with great control.