Predator Shaft Comparison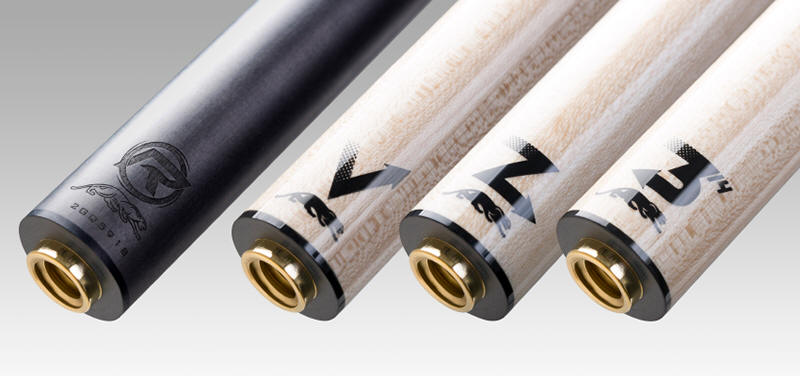 WHICH PREDATOR LOW-DEFLECTION SHAFT IS RIGHT FOR YOU?
Selecting the right shaft for your game is often an equation as complex as making them. It is for that reason that the carbon fiber composite REVO, and spliced Vantage, 314, and Z offer distinct advantages and compromises to suit your unique stroke and playing style.
REVO is the ultimate in billiards technology and performance. Comprised of aero-space grade carbon fiber composite, REVO shafts incorporate more than twenty years of technological evolution and testing. The stiffest of all Predator shafts, REVO shafts feature the lightest front end mass, the lowest rate of rise taper, greatest radial consistency, and most durable construction. The result? The most accurate shaft in the world at low and high speeds, with the smoothest finish, most spin, and uncompromising durability.
Vantage is the thickest, stiffest, strongest spliced shaft, and has the lowest front-end mass of the spliced shaft line-up. That may be surprising, but with the increased strength and spine of our ProV taper, Vantage shafts are stronger, allowing for increased mass reduction at the front-end.
Z3 is lean, mean and has the most flex. Its smaller diameter paired with V-Tek construction allows for an extremely light front-end and pin-point tip placement. The Z3, is 4% lighter at the front-end than the Z2 and is considerably stronger.
3143 is the all around athlete. Stiffer than a Z3, but not as stiff as Vantage, the preferred taper and diameter of countless champions is even more accurate than before. With the addition of V-Tek construction, the 3143 is 3% lighter than the 3142 at the front-end and even stronger than before.
| | |
| --- | --- |
| ACCURACY AT HIGH SPEED | ACCURACY AT LOW SPEED |
| SPIN AT HIGH SPEED | SPIN AT LOW SPEED |
| STATIC STIFFNESS | ENERGY TRANSFER |
| HIT FIRMNESS | HIT COMFORT & FEEDBACK |
| RADIAL CONSISTENCY | LONGEVITY |